Hi Guys
Im clearing out more stuff to fund the hot water system for my trailer.
For sale is a Liberty Standard grooming table 75cm tall just like the ones pictured on their website
http://www.libertyinternational.com.au/tables.html
in excellent condition
also available is a control frame for the table, it does adjust to fit other table lengths and is height adjustable too. I could not live without a control frame for difficult dogs.
Asking $160 for both or $100 for the table and $80 for the frame.
For sale Oldfield LD200 twin motor dryer with silencer, excellent condition barely used. Does not fit in my trailer, the only reason why I am selling it.
I paid $885 for this dryer, asking $600
From the manufacturer
"This double switch dryer gives you the option of high and low pressure, this dryer is used extensively with dog grooming salons and mobile pet groomers who have realised the benefits this dryer can be to them in reducing drying time and blowing out all that dead hair leaving a healthy and shiny coat. This model comes with a 5m flexible hose and nozzle attachment to give even more intense air pressure.
The LD2000 features two 850 Watt Twin Fan Airflow Motors
This dryer stands 28cm high and is 50cm long. It is made from Zincalume steel which is strong enough to withstand hard conditions. It has been professionally painted by a licenced spray painter in a two pack paint which stops scratching and helps prevent rust."
Looks just like this one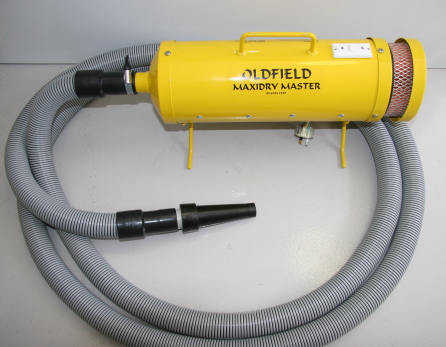 Pick up from Werrington Downs (near penrith) or can deliver for a small fee
I may also be able to arrange to send by courier
feel free to ask any questions

gumsgrooming




Location

: Penrith NSW


Posts

: 394



We have an Oldfield like that, but with a different filter on it. That is the filter on the end of the dryer, or is it the silencer?

CoatCutter

Forum Administrator





Location

: Sydney, Australia


Posts

: 1536




gumsgrooming




Location

: Penrith NSW


Posts

: 394



Just bumping this up.

I really need the money as my bathing system is starting to fall apart.

DRYER NOW REDUCED TO $500 so grab yourself a bargin

Can arrange a courier if needed



gumsgrooming




Location

: Penrith NSW


Posts

: 394



I can vouch for the dryer. I have the same in my van. They're very powerful and reliable.

yapidiyap




Location

: Wollongong


Posts

: 273



HI gum's g,



I'm wondering if the oldfield is still for sale. Please let me know. Kind regards,



Charlie

charlie




Location

: Sydney


Posts

: 1



Sorry the dryer has already been sold


gumsgrooming




Location

: Penrith NSW


Posts

: 394




---
Permissions in this forum:
You
cannot
reply to topics in this forum