My Lindy loves the good life. Every night she sleeps in her bed in the lounge room but around dawn she sneeks up into our bedroom and likes to sleep on the pillow that I throw on the floor, Usually there are two pillows there, but only one today. She won't move until we get up. Always has to sleep on a pillow to support her head, will never sleep on the floor alone!!!! She thinks I don't know she is there but hey the very LOUD snoring gives it away all the time.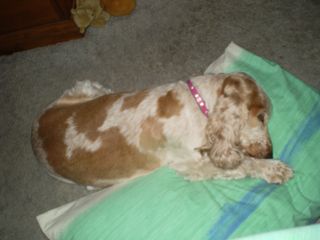 Coatsntails




Location

: Carrum Downs, Melbourne, Australia


Posts

: 735



Bless the little munchkin

she just wants to be near you...but with some creature comforts


_________________
I wish I was a glowworm, a glowworm's never glum, cos how can you be grumpy when the sun shines out your bum?!

Westie




Location

: Geelong, Vic


Posts

: 701



I wonder if I put a pillow on the floor for Wilbur he'll sleep on that instead of our heads.



Tail's a Waggin'




Location

: Melbourne, Victoria


Posts

: 1074



Ha ha, Daisy sleeps on both, our pillows and our heads, shuffles right on up there. And Vanda, can soooo sympathise with the snoring Arrgghhh, Daisy doesn't sleep with us at all and we still have to close the door to block out the sound, she only gets to crawl in with us in the morning. Lindy just thinks she's regal cause she gets to sleep on her own pillow. Cute.

peke-lover




Posts

: 992



Can relate to the snoring and pillow hogging all are describing...multiplied by 3!!! lol....but wouldn;t have it any other way


Donna

Forum Administrator





Location

: Fairfield West. NSW


Posts

: 1896



awww that is adorable.. Love how sneeky she thinks she is ..

Jenna our pug snores really loud.. and of course she has to sleep right near your ear haha never sleep when she is in bed with me haha.

Emmalovesbeth




Location

: Brisbane


Posts

: 644




---
Permissions in this forum:
You
cannot
reply to topics in this forum