As soon as winter hits all I do is cook and eat. This year has been specially bad because winter has just begun and i already have my winter pot belly. When I am cold I dream up all these warm foods iin my head and then have to cook. Already I have made chicken and mushroom pies with a new pastry I tried, lemonade scones with cream and raspberry jam, Potato and leek soup, yesterday I made homemade hamburgers and wedges with sour cream.
Today I really had the taste for something tangy and juicy in my mouth and came up with this cake
TANGY SYRUP CAKE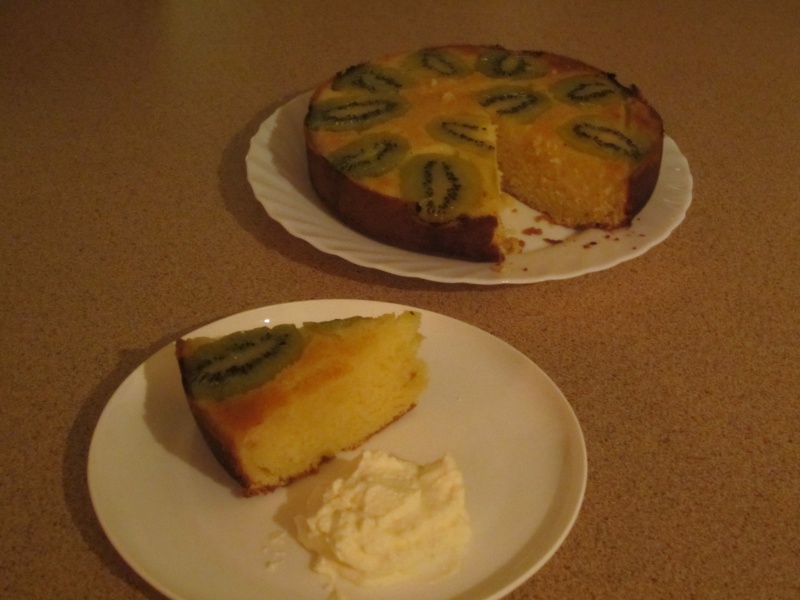 Now you really have to be a fan of all things sour I went full throttle but you could cut back on the amount of lemon
INGREDIENTS
CAKE
125grams butter ( i didnt have unsalted butter but if you do add half a teaspoon of salt to the batter otherwise leave it out)
125 grams sugar
2 eggs
lemon zest
175 grams S R flour
3 milk bottle lids of milk ( my ingredients are usually guestemates cause I hate following receipes)
1 kiwi fruit
SYRUP
2 lemons
I just usually coat the bottom of my pan with sugar but 100grams caster sugar should be about right


In an electric mixer beat sugar and butter

when combined add your egg

zest about one and half lemons into flour and add to mixer

I added three milk lids of milk today but add untill the consistancy of your batter looks right

I wanted my cake to look a little pretty so I sliced kiwi fruit on the base of my cake tin but again if you dont like to much sour add something else like pear or leave it plain

I had my oven to about 180 but I dont know how long I cooked the cake for because I just wait untill I can smell it. it wasnt very long so keep watch shake the tray if your cake dosnt wobble its ready.

while the cake is cooking I added the sugar and squezzed lemons to a pot and cooked over a low heat until sugar was disolved and then heated for about two more minutes while stirring

I whipped cream I had left over. it was going to be whipped with sugar but instead I added a bit of the lemon syrup to it but again if you dont like to much lemon leave it out

once cake is cooked you want to put the syrup in while hot so flip it over so the kiwi fruit is on top poke a few holes in the top and pour your syrup over.

most important eat while still hot

Yum Yum Yum Yum

Chase




Location

: Victoria, Australia


Posts

: 598



Sounds yummy. Talented in the kitchen to...


Tail's a Waggin'




Location

: Melbourne, Victoria


Posts

: 1074



yum, passing this onto the boss


Chris




Location

: Canberra, Australia


Posts

: 716




---
Permissions in this forum:
You
cannot
reply to topics in this forum