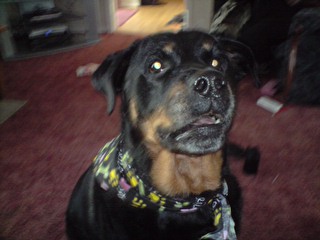 this is dibbles my nice old rottie she is 9 now

mollaholland




Posts

: 189



I like the rotties, up until a short whie ago my sister was the proud owner of 4 of them, all lovely and docile.

Coatsntails




Location

: Carrum Downs, Melbourne, Australia


Posts

: 735




Tail's a Waggin'




Location

: Melbourne, Victoria


Posts

: 1074



Sorry guys, We sadly lost Waldo this year back in June after 12 years. Had him since he was 7 wks old. We were devastated.

I now have a new little fella called Wilbur who is a pure breed english staff. As soon as I can figure how to arrange my photos I'll post a picture of Wil but for now just wanted to add Waldo to Dibbles. What a gorgeous old girl. I see she also has plenty of wisdom around her chinny chin.


Tail's a Waggin'




Location

: Melbourne, Victoria


Posts

: 1074




Coatsntails




Location

: Carrum Downs, Melbourne, Australia


Posts

: 735



when I first started grooming I used to have a major fear of rotties. I knew I had to get over it and the first rottie I ever washed was a huge boy named Blaze. What an experience that was! It was love at first sight for Blaze, he fell in love with the groomer in all the wrong ways

. He become a regular 2 week wash, his parents had to put him on a specially made high tensile steele chain when they knew I was on my way there as he would break the fence down if he heard or sighted me then he would sulk for hours after I left. During his grooming process he would continuously try to have his way with me, I could never turn my back on him or he would have me over the bath or the table. His parents even had him desexed because of me hoping this would stop him....nope still was as frisky as ever! This went on for a few years then his owners moved to the country which was a bit too far away for me to go wash him. Well his parents have recently moved back to my area and called me to groom him again. We all waited in anticipation to see Blaze's reaction when he saw me, wow I think he was the happiest dog in the world...you could read the thought on his face..."she's back, the love of my life"...the first thing he does when he gets in the van after 3 years of not seeing me..tries to lay me over the table for a good hum$%#@ing. We can't work out why he does this to me, aparently he has never tried this with the other groomer in the country or with other people. We have come to an understanding that he stays in the tub to get dried, then he can come out and have hugs and kisses and I try to not turn my back on him. I do love him to death, (but not in the same way as he loves me) and I always feel safe and at ease when I'm with him and always look forward to my fortnightly visit. I haven't seen him for a bit though as he had to have a tumor and a toe removed a month or so back, but he is doing well.
mollaholland Dibbles looks like a beautiful girl.....tails, sorry to hear about Waldo, I'm sure he is still with you in spirit and I know Wilbur is a lucky boy to have you as his mum.
as Coats said...Gentle Giants!

kasz




Location

: Heathcote Junction, Victoria


Posts

: 204




mollaholland




Posts

: 189



Oh Mollaholland, there just beautiful aren't they. Love your pics thanks for sharing them.
Yes our waldo was a real lover. Also a giant paper weight in the bed for 12 years.

We both suffered the hankerchief effect in bed struggling to get the covers as wal was a real bed hog. More like a sloth than a rotti. Wouldn't have it any other way. They really are wonderful breed of human(dog) there is. I would have loved another one however was frightened that it just wasn't going to live up to Wal. Have found my new little staffie a bundle of joy and look forward to posting a picture of him as soon as I find how to transfer some files on my pc.
Wilbur doesn't seem to be such a big paperwiehgt as our "fatty". He is the reason I started grooming and have never looked back.
Thankyou WALDO!!!! xxxooo


Tail's a Waggin'




Location

: Melbourne, Victoria


Posts

: 1074




Tail's a Waggin'




Location

: Melbourne, Victoria


Posts

: 1074




_________________
cheers, Susanne
Home of Koolandra Saint Bernards

Susanne




Location

: Western Australia


Posts

: 366



omg saints are so cute as pups dont think i could live with one tho glad u liked the pics of the rotties i wouldnt e with out one now ever
dibs is getting on a bit now but i hope i have a fue more years with her

mollaholland




Posts

: 189




---
Permissions in this forum:
You
cannot
reply to topics in this forum