This incident happened back in early November last year. I sustained 8 stiches to my bottom lip. Four on the inside of the bite and four on the outside. I can still feel the scar on my lip however I am finally begining to regain full feeling in it. I only have slight numbing in one spot. I have a scar down the side of my face as this couldn't be stiched but had to be glued. The puncture wounds on my chin aren't that noticable and I have a little wriggle scar on my chin. My husband still loves me and thinks I'm beautiful and probably lucky that I'm not that vain.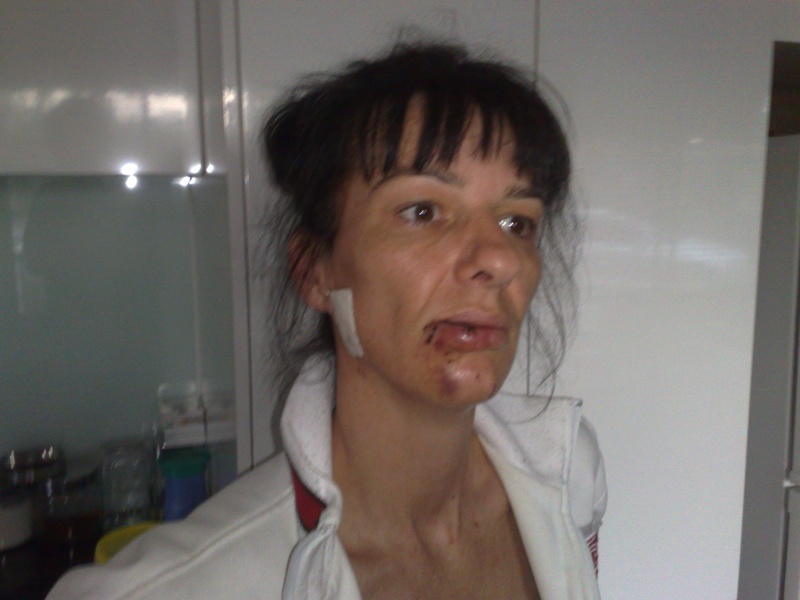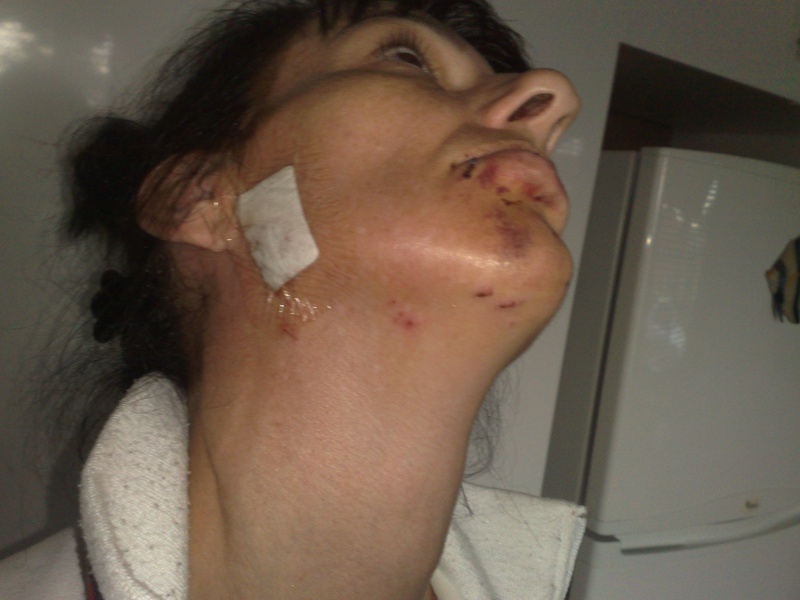 This was an small female staffy. I never even got her into the trailer. I knew I was in trouble when she got me done the side of the face. I just couldn't get out of the way and the rest well the pictures speak enough.
The owners first reaction as I came from the back of the trailer holding my face in a blood soaked towel was "What did you do to her"

I spent months chasing the council ranger after being advised from numerous groomers not to let it slide. The ranger investigated and found no grounds to take any further action. Just bad luck.
I'm still trying to get over it and it's even harder when I have to driver past the property regularly. Bit of a joke really isn't it.
Another valuable lesson learn't whilst travelling to hell and back..................


Tail's a Waggin'




Location

: Melbourne, Victoria


Posts

: 1074



Glad ur on the mend now Sarah...A terrible thing to have happen...Be strong and you will get through it completely to a place where it will no longer effect you


Donna

Forum Administrator





Location

: Fairfield West. NSW


Posts

: 1896



OMG Sarah!!!! That's a raw reminder of what this job can entail. Such bad luck to strike her and you did the right thing in trying to push the incident with the council....Hope she doesn't do anything else to anyone else or any dogs!!!

Sinner




Posts

: 1111



Sarah. What a terrifying experience. I do hope that you are OK now. It certainly does unnerve you though, you are always just that little bit more wary.

I once had a client with 2 dogs - a German Shep & Shar Pei. I washed the shep first and then when I was trimming it's nails it turned on me and bit my hand several times. I yelled when the dog bit me, then the owner came out to see what was going on. There was blood everywhere in the trailer, and the owner asked the same question "What did I do to the dog" - nothing other than clip its nails. The owner took the dog into the back yard & I cleaned up my hand as best I could. I told the owner that I needed to go to the doctor, and his response was "will I bring out the other dog for you to wash"? NO! I need to go to the doctor. He says when will you wash my dog then? NEVER!

All he was worried about was getting his dog washed. He wasn't the least bit concerned for my welfare. He didn't even apologise. I advised our Call Centre of the incident and suggested that we Don't send any other franchisees to this client.

Some people are just so damn selfish.

DoggyDoos




Location

: Berwick, Victoria


Posts

: 897



Too true Trish...Some people cannot see past their own agenda and are very selfish...They are priority number one and that's the end of the story

Donna

Forum Administrator





Location

: Fairfield West. NSW


Posts

: 1896



Sarah, you poor girl! I am aghast that you did not receive justice.....truly, I am speechless. What a pig of an owner......and dog!
I do hope that your scars fade over time, physical and mental. You are a brave person to continue - I'm not sure that I would.
Is there any possibility of plastic surgery if you wish to go down that path? A friend of mine was bitten on the lip and after the op you can barely notice.

mutleymanor




Location

: Gold Coast, Queensland.


Posts

: 1374



OMG! I am so sorry about your horrid ordeal. Apparently the only good from this is your sharing the experience. All scars heal over time.
I do worry about bites and try to avoid them but sometimes luck just runs out.

jonna




Location

: Pennsylvania, USA


Posts

: 1638



It has been sometime and all wounds have healed. Not that concerned about scars. The thing that scarred the most was the owners pathetic response. As I said to him I wouldn't be to concerned about what I've done to her but more importantly what she has done to my face under no provication and more importantly what I might do with her now. He did offer to take me to doctor and for trailer to be parked safely whilst we did this. Was a little late after he accused me of man handling of his dog. All I wanted was to get home to my husband and a doctor.
I sent the ranger in to investigate as this animal had been running around a public nursery up until this. I still think the ranger has made a terrible mistake and she will do it again. If she did this to me, a child wouldn't stand a chance.
I have not sustained any fear from returning to job. I'm no more careful than I was before.
I have nothing but sheer anger for owner and I know what you mean Trish this owner couldn't understand why I didn't want to come back to groom his poodle that got missed. I did send e-mail to all his former groomers and alll groomers and mobile in his immediate area. They can do his poodle but be warned when he slips that Awwww she just a small staff, won't take long line.

This has been my first real bite in the time I've been out there grooming. Had to happen sometime..............

Tail's a Waggin'




Location

: Melbourne, Victoria


Posts

: 1074



I'm still disgusted by what the owner said and did.
I was only bit once without provocation and it was bad. I hope this is your one and only.

jonna




Location

: Pennsylvania, USA


Posts

: 1638



That's terrible. Thankfully I've not had a really bad bite. Touch wood I don't. One of the nurses at our vets put her face into a crate to say hello to a dog, and did a fair bit of damage. Took her a while to get her confidence back


CoatCutter

Forum Administrator





Location

: Sydney, Australia


Posts

: 1536



Really scary stuff. Thanks for posting Sarah, if nothing else, just a constant reminder to us all to always stay vigil.
_________________
Lisa & Daisy


peke-lover




Posts

: 992




---
Permissions in this forum:
You
cannot
reply to topics in this forum