Sorry, have no recent ones of Daisy, but I can assure you she looks the same, just a bit greyer under the chin! Oh, and probably fatter. I will try for recent photos in the next day or two.
Here are 2 of the new family members. Bart, the cat, was found in a park in perth and I got him through friends of friends on Facebook after a glowing report and we couldn't be happier. I don't like cats but he's happily changed my mind. After spending a month getting rid of the cats on our property (since our last cat died) he now owns the street and everything in it. Although some advice on how to clip his bum and keeping him quiet at the same time would be much appreciated.
Lady, the kelpie X is a rescue from Kalgoorlie. Taken off the original owners as she was being used as a breeder. 3 litters of pups and she's 1 1/2 yrs old they think. VERY energetic, runs for the (closed) door, slams on the brakes and still hits it everytime. She is a good dog but is a runner. The pet containment system didn't work, she ran right over it and just kept on running. Spends most of her time on a chain during the day (oh, and she can jump 6 ft fences) and comes in for social time at night.

Oops, I lied. Found one.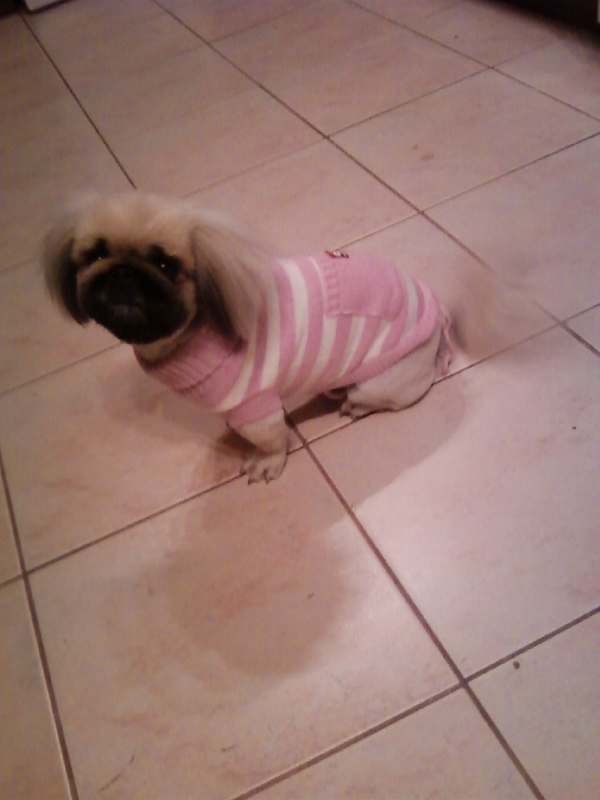 _________________
Lisa & Daisy


peke-lover




Posts

: 992



PS: Please ignore Daisy's ugly feet. She chews them and eventually when I get so frustrated with it I clip them right back and she stops, for a while :/
_________________
Lisa & Daisy


peke-lover




Posts

: 992



Thanx Lisa


Donna

Forum Administrator





Location

: Fairfield West. NSW


Posts

: 1896



Your family has certainly grown Lisa. How lovely to give these animals a second chance... Love Daisy's jumper....very girly. Just need to paint her toenails pink to match !!!!



Sinner




Posts

: 1111



Greyer under the chin and fatter sounds like me lol Great to see your family


CoatCutter

Forum Administrator





Location

: Sydney, Australia


Posts

: 1536



Thanks for the pics Lisa. They look great!

DoggyDoos




Location

: Berwick, Victoria


Posts

: 897



NAWWW the face it is all mussy and cute!! love her little chicken feed very practical! your new members look very sweet we have a runner dog aswell man it makes life hard gotta close every gate twice

Emmalovesbeth




Location

: Brisbane


Posts

: 644



a bunch of cuties


shiveringpuppy




Location

: USA


Posts

: 737



Love Daisys jumper. Donna makes the perfect flower bands to match......


Tail's a Waggin'




Location

: Melbourne, Victoria


Posts

: 1074



Hey Lisa, cute additions to your family. Love the kelpie's beautiful smile. she knows she's landed in the right place

Looks like the forum's jumping again - great to see.

mutleymanor




Location

: Gold Coast, Queensland.


Posts

: 1374




---
Permissions in this forum:
You
cannot
reply to topics in this forum